2012 Vintage Fall Release
After tasting through every barrel multiple times, making the single vineyard selections, and blending the AVA wines, we could easily proclaim 2012 to be the BEST CALIFORNIA PINOT VINTAGE EVER. And while we believe that to be true... aren't we all sick and tired of hearing stuff like that from winemakers? Heck, we're tired of hearing ourselves say it :) So, we won't bore you BEST EVER talk, or with descriptors like AMAZING, STUNNING, PRECISE, OPULENT, or SEXY. Nope - not gonna do it this time. Although true, and deserving of being said, we'll just go with:
Come and get 'em!
We do apologize for the early release. We normally wait until August, but harvest looks like it'll start very early this year, so we wanted to get this out before we got distracted by tons and tons of grapes. They're needy little buggers, and take up virtually all of our time once they arrive. We're also getting lots of queries from our distributors about the 2012s. Apparently they've heard the BEST EVER talk as well. So we'd like to make sure that you, the most DISCERNING, INTELLIGENT, and dare I say ATTRACTIVE customers on the planet get to make your preferences known before we release allocations to distributors.
Since yields were normal (finally) in 2012, our fruit costs went back down to normal levels. As such, we've been able to REDUCE PRICES a bit this year! Hard to believe, but true - BEST EVER (as some would say) and at LOWER PRICES. We also decided that instead of having a discounted mixed case that included some Chardonnay, we'd just have the one mixed case of Pinot, and then lower the single bottle price for the Chards. That way you get the volume discount from bottle one on the Chardonnays. We thought that'd be less confusing than having multiple mixed case options. Of course, that probably means it will add confusion, so we apologize ahead of time. We suffer from a disease we like to call... "it was clear in our head". So please be patient with us. And BTW... 2012 was really good for Chardonnay as well :)
The normal notes apply: The wines won't ship until Oct-Dec, weather permitting. You may specify to pick up your wines, in which case they will be available starting August 29 at our new Tasting Room in Buellton. While we continue to stand behind every wine we make, we won't bail you out of jail, pay child support for babies conceived, nor take responsibility for any incriminating photos that result from even the proper use of our product.
These wines are now available for purchase to List Members through our on-line ordering system.
We Have a New Tasting Room!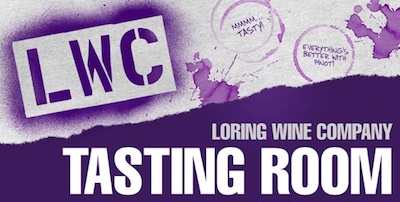 420 East Hwy 246, Buellton, CA 93427
Our BRAND NEW tasting room in collaboration with Cargasacchi and Point Concpetion is located at 420 East Hwy 246 in Buellton, between Ostrich Land and the Hitching Post II Restaurant. We are open Thursday through Monday from 10am to 5pm; Tuesday and Wednesday by appointment only. Please call for an appointment for groups of six or more. To contact the tasting room staff, please call (805) 691-1300 or Email Us!